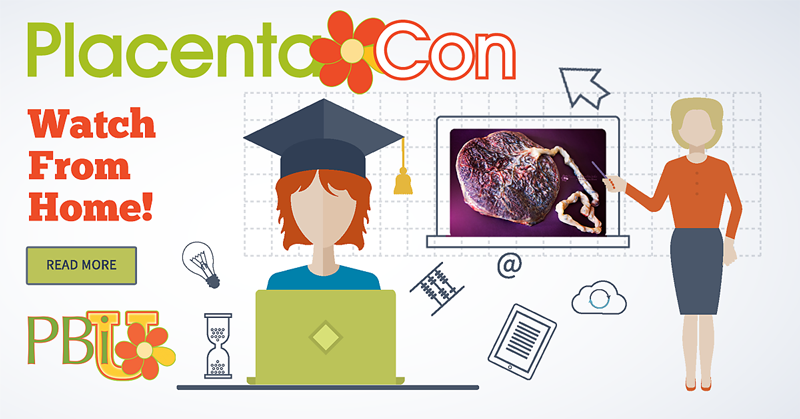 Did you miss PlacentaCon? Watch the sessions from your home!
Only $75 for over 4 hours of excellent education.
How Do I View the Videos?
1. Log In (or Create an Account)
       How do I create an account?
2. Register/Enroll
       Watch this video to see how!

Schedule of Events
We have a terrific lineup of speakers, presenting information on a variety of topics:
Maryn Taylor and Maria Pokluda, of Dallas Ft. Worth Placentas, gave a great presentation on running a placenta-based business.
Sara Harkness from Sacred Postpartum shared ways in which we can honor the placenta.
Laura Gryder from UNLV shared data from the Placenta vs. Placebo research study on iron and its effect on women in the postpartum period.
Patricia Edmonds, midwife and author of Placenta: A Guide to Examination (aka, the Placenta Bible) gave us a detailed demonstration on placenta anatomy and examination.
Michelle Escasa-Dorne from University of Colorado shared her research on women's fluctuating libido and its adaptive functioning during postpartum recovery.
Sharon Young, UNLV Human Maternal Placentophagy researcher shared some interesting points from the UNLV Placenta vs. Placebo research study.
Dr. Daniel Benyshek attended and participated in our Research Panel at the end to answer questions about the UNLV Placenta vs. Placebo research study.
PlacentaCon was a fundraiser for Ibu Robin Lim and the Bumi Sehat Foundation. Portions of ticket sales, as well as a full Art Auction Benefit went toward supporting their clinic in Bali, which provides donation-only health care to Indonesia's poorest residents.
   * We raised $500 at PlacentaCon!

Follow us on Periscope! We broadcasted a few live clips from PlacentaCon!