Why the change?
When did PBi become PBiU - Postnatal Education and Training?
We are excited to offer practitioners a whole new way to experience PBi as a training organization.

PBi started with a mission to normalize the practice of placentophagy. Since 2006, acceptance of placenta encapsulation has grown to become quite a trend. Releasing the original placenta encapsulation training course was an important first step - but it's time to grow.
Same Mission - Separate Focus

Placenta Benefits.info (aka PBi) will continue its work promoting the benefits of placenta encapsulation to women for their postpartum recovery.
PBiU will offer postnatal education and training opportunities to professionals who want to provide those mothers the highest level of postpartum services.

For more information, register for Welcome to PBiU below. You will need to log in (or create an account) to view everything we offer, but it is available for free.
How do I create an account?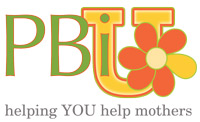 Introductory Course
Welcome to PBiU - where we help YOU become an expert in postpartum services.
Topics Covered in this Course
Welcome Students
Syllabus for the Placenta Encapsulation Specialist Training Course
PBi Certification - what you need to know
What to Expect from PBiU
Additional Resources - suggested reading and links
How to find Help